If you are participating in the upcoming TFOS Montpellier 2016 Conference, the scientific program is available on the website:
http://tfos2016.org/program.php.
This program will detail the time(s) and date(s) of your presentation(s).
A hard copy book with all the abstracts (i.e. Conference abstract book) will be given to you during registration:
1:00 PM to 5:30 PM, Wednesday, September 7, at Le Corum.
Please note that after the registration period a Conference Welcome Reception will occur from 6:00 to 7:30 PM at Le Corum.
For those presenting posters, the poster board dimensions are 200 cm wide and 100 cm high. Posters may be hung with double-sided tape, which will be available in the poster area in Le Corum. Posters should be hung before 7:45 AM, and removed by 6:30 PM. Le Corum will be open by 7:00 AM.
Please do not ask TFOS about mailing your poster to the conference center. We are not accepting posters that are mailed. Alternatively, you may deliver your poster to your hotel. Further, TFOS does not offer printing facilities for posters. Please make your own arrangements to print your poster.
Thanks again and we look forward to welcoming you to Montpellier.
Sincerely,
David
P.S. If you have not yet registered, please do so. Thanks.
David A. Sullivan, MS, PhD, FARVO
Senior Scientist
Schepens Eye Research Institute
Associate Professor
Department of Ophthalmology
Harvard Medical School
Founder, TFOS

TFOS BOARDING PASS: TFOS CONFERENCE
By early September all TFOS Conference registrants will receive a "Boarding Pass," which will permit entry into the Conference area.
You MUST have a Boarding Pass and a proper ID to collect your name badge & registration pack.
If you do not receive the TFOS Boarding Pass by September 3, please contact:
Viola Muzzu: v.muzzu@jaka.it.

TFOS CONFERENCE SPECIAL TRAVEL AWARD: OPTICAL FOUNDATION
Congratulations to Acheampong Oppong for winning The Optical Foundation (TOF) France Oosterhof Travel Grant. This award covers the cost of travel and lodging to permit one outstanding Ghanaian to attend TFOS Montpellier 2016 Conference, in order to learn about cutting edge research and bring this knowledge back to Ghana.
The TOF is a non-profit organisation with the mission of making eye care accessible for everyone in Ghana. The focus is especially on children because early detection of disorders can prevent illiteracy. A key to making eye care accessible is providing tools and creating opportunities for outstanding Ghanaian optometry students, thereby allowing them to become Ghana's future prominent specialists or researchers.
For more information about The Optical Foundation, please visit the website:www.theopticalfoundation.com

SAVE THE DATE: TFOS VISION LOUNGE
On Thursday evening, September 29th, TFOS will be hosting our first Vision Lounge in Boston. Attendance is free. RSVP required.
The TFOS Vision Lounge is an international networking intitiative, bringing together KOLs and movers-&-shakers in the eye/health world. The TFOS Vision Lounge will bring together clinicians, scientists, entrepreneurs, investors, startups and a diverse mix of collaborators from the eye health community for an evening of disruptive thinking and networking. TFOS The Vision Lounge will be launched in Boston and eventually roll out to other cities and countries around the world. Together, we help Vision.
Thanks to Shire for sponsoring the inaugural TFOS Vision Lounge!
Vision Lounge location & details upon RSVP:
To RSVP for the TFOS Vision Lounge, please email Amy at Amy@TearFilm.org.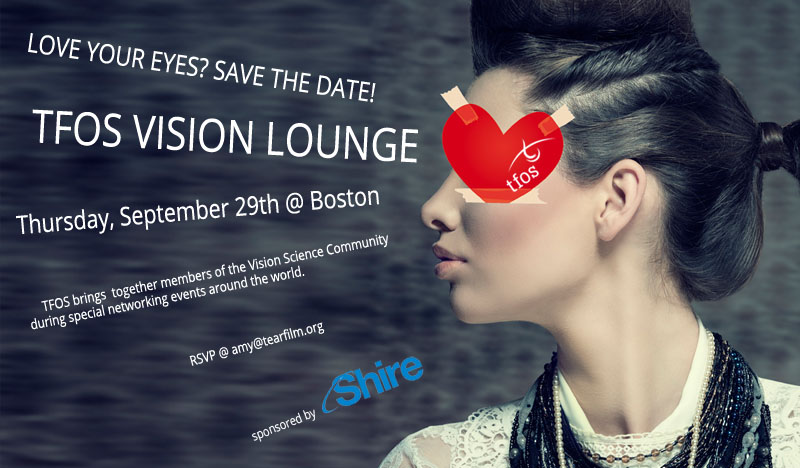 Did you know that TFOS is a non-profit? TFOS' main objective is to educate & disseminate information widely. We want everyone to be able to access and share TFOS knowledge, for free. However, we cannot do this alone. We need your support!
Remember: TFOS is a non-profit! Charitable donations to TFOS are accepted via bank transfer or cheque: Tear Film & Ocular Surface Society, PO Box 130146, Boston, MA 02113 USA
If you would like to make a donation, please contact Amy at: Amy@TearFilm.org
If you know someone who is interested in signing up for the free TFOS newsletter, please have them contact Rose at: Rose@TearFilm.org

IN ADDITION
While we are honored that Members, organizations and institutions want to promote TFOS, in order to maintain brand consistency and content accuracy, please contact us for permission before using/distributing/referencing the TFOS name, logo or materials. The only 'official' TFOS activities, events or literature are those which we authorize and promote. Thanks.

TFOS APPS 
Please note that we are in the process of reprogramming the TFOS App. The new App will be available soon!
Follow TFOS on Twitter: @Eyeppl
Share the news as it happens! Tweet us your updates!
Tear Film & Ocular Surface Society
www.tearfilm.org
Corporate Advisory Board
Alcon, Allergan, Bausch & Lomb
Johnson & Johnson Vision Care
Santen, Shire, SIFI, TearLab

| | | |
| --- | --- | --- |
| | | |